Hope you had a great Wednesday!  Here's a freebie re-cap for our night owls so you don't miss out!

If you missed out on this offer to try new Bausch & Lomb PureVision2 contacts, it's BACK!I've been wearing contact lenses for a LONG time and I really hate it when I pay for new lenses and then they don't work for me!  Right now Bausch & Lomb has a great offer where you can try contact lenses for FREE! This is a limited time offer, so hurry and grab it for yourself before it's gone! It went very fast last time!
Here's how you can take advantage of this deal:
1.  Fill in the form here for a free trial of Bausch & Lomb PureVisions 2 HD contact lenses
2.  Print a copy of the free trial lens certificate and bring it with you on your visit to your eye care professional!
You'll be able to try one of these new lenses for FREE!
NOTE: The free trial certificate does not include the cost of your eye examination or any other professional fees!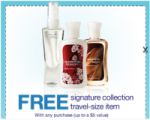 Bath & Body Works has a printable coupon here for a FREE Signature Collection Travel Size item with ANY purchase! Check out the clearance section for the item you have to purchase – you can often find items for as low as $.99!  Their Signature Collection items are also Buy 3, Get 2 Free right now.  This coupon is valid through 7/13/11.
Are you planning a vacation to a new destination this summer?  Get the scoop on your destination before you go with these free travel guides from TravelGuidesFree!TravelGuidesFree.com specializes in getting you free vacation information so that you can plan your ideal vacation. Guide yourself on a frugal adventure of the many wonderful tourism hot spots in the U.S. by using a tourism brochure from TravelGuidesFree.com.
I requested a few for different vacation spots we're considering for the summer.  I figured it would be a great way to get my kids excited about the trip and to let them do some "research" of their own!  The best part is it's completely FREE!  (I just love that word!)
Have you checked your credit score lately? I hadn't checked mine in awhile because most places charge you a fee.  I just checked mine through Credit Karma and I was pleasantly surprised at how much it had gone up!
I completed this offer myself first and I can assure you it is COMPLETELY free!  You don't have to give your credit card information or any other payment information! I also haven't received any additional "SPAM" type e-mail (you guys know how much I hate spam!)
If you haven't checked your credit score lately, check it here now! I hope you're surprised like I was!
*This post may contain affiliate links. Please refer to my disclosure policy for more information