In case you've missed some of the great freebies we've posted over the past few days, here are a few you won't want to miss!
Have you checked your credit score lately? I hadn't checked mine in awhile because most places charge you a fee. I just checked mine through Credit Karma and I was pleasantly surprised at how much it had gone up!
I completed this offer myself first and I can assure you it is COMPLETELY free! You don't have to give your credit card information or any other payment information! I also haven't received any additional "SPAM" type e-mail (you guys know how much I hate spam!)
If you haven't checked your credit score lately, check it here now! I hope you're surprised like I was!
Are you looking for home improvement ideas for your kitchen, bathroom, bedroom, or even a home office? Hurry and grab this Kraftmaid Inspiration Guide – it's FULL of ideas! There is a limited supply and this offer is only available while supplies last. It never lasts long! Hurry and grab yours before it's gone by clicking on the image above!! I hope you're able to get one!

Are you suffering from symptoms of arthritis or do you know someone who is? Make sure you grab this FREE arthritis guide for ideas on dealing with knee pain, healthy eating tips to help with inflammation, exercise management tips, and more!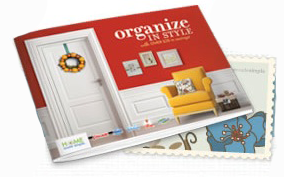 Have you requested the latest P&G Organize in Style coupon booklet? You'll get $35 in savings on popular P&G brands such as Cascade, Dawn, Febreze, Glade, Mr. Clean, and Swiffer! I love these coupon books! You can request yours here.
*This post may contain affiliate links. Please refer to my disclosure policy for more information