There are lots of great free family activities going on this weekend!  Here are some free things that you can enjoy with your family:
Bass Pro Shops ~ Make your own leather keychain on 6/18 and 6/19 from 2-5 pm.  Enjoy free activities from 12-4 pm.  (shooting gallery, shooting range, and casting targets)  Get free photos and check out the free S'mores cook-out from 7-8 p.m. on Saturday.
Blockbuster Express ~ Don't miss out on these seven free rental codes, which expire today (6/17)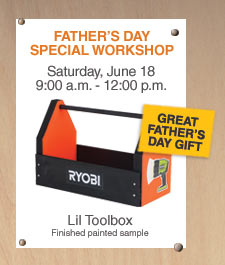 Home Depot ~ Kids ages 5-12 can attend a special Father's Day workshop on Saturday, 6/18 from 9-12 a.m. and make a L'il toolbox.  In addition to the project, each child will also receive a Home Depot apron!
Lakehore Learning ~ Make a free Father's Day wallet for dad from 11 am-3 pm on Saturday, 6/18.
Michael's ~ Make a free Father's Day keychain on Saturday, 6/18 from 12-2 pm.  Available for ages 3+, while supplies last.
Walmart ~ This weekend, my Walmart is having sampling events from Blue Bunny, Keebler Cookies, and Velveeta.  Find out what sampling events your Walmart is having this weekend here.

*This post may contain affiliate links. Please refer to my disclosure policy for more information