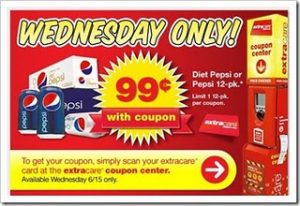 Did you get this e-mail from CVS in your e-mail?  Today (6/15) only, make sure you scan your Extracare card at the red scanner in your store and you should get a coupon to get a 12 pack of Diet Pepsi or Pepsi for just $.99! I hope you have this coupon on your card!  I recommend going early to check it out because this deal is HOT and I'm guessing that the Pepsi and Diet Pepsi will sell out quickly!
Let me know if you're able to get some!
(Thanks Coupon Centsation!)
*This post may contain affiliate links. Please refer to my disclosure policy for more information.