If you "like" CVS on Facebook, they will e-mail you a coupon for $5 off a $40 purchase. It has been YEARS since I have gotten one of those coupons, so I have to admit I'm just a little bit excited.  You can 'like' them on Facebook here.
I went to check out my CVS stores yesterday.  They were out of all of the cheap and "freebie" items, which was a bummer, so I'll have to check back later this week.
While I was there, I saw this deal, which I hadn't seen in my weekly ad: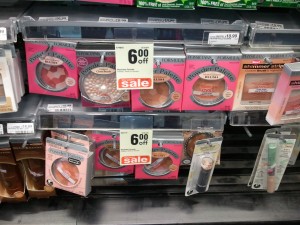 The Physician's Formula powders, blush, or bronzers are $6 off this week! The cheapest items I saw were the blushes for $10.99.  If you have the $5/1 coupon from the 3-6 inserts, the blush will be free after the store promotion and the coupon!
So, here's my plan with the $5/40:
Buy 2 Charmin – $5.49/each
Buy 2 Duracell – $9.99/each
Buy 2 Right Guard body wash – $3.88/each
Buy 1 Physician's Formula blush – $4.99 (after $6 off store
Use $5/40 store coupon
Use 2 $1/1 Charmin coupons (P&G mailers)
Use 2 $1.50/1 Duracell coupons
Use BOGO free Right Guard coupon
Use $5 Physician's Formula coupon
Use $4.98, $4, $3, and $1.98 ECBs
Spend $10.87 OOP, get a $10 ECB and a $3 ECB
Here's another scenario:
Buy Complete Multipurpose Solution – $8.99
Buy 2 Crest toothpaste – $3.49/each
Buy 2 Gum-Eez flossers – $2/each
Buy 4 Oral B Advantage toothbrushes – $2.99/each
Buy 2 Right Guard – $3.88/each
Buy 1 Mars eggs – 2/$1
Use $5/40 CVS coupon
Use $1/1 Complete coupon
Use 2 $1/1 Crest toothpaste coupons
Use 4 $2 Oral B coupons
Use BOGO free Right Guard
Use $1/2 Mars Easter products
Spend $19.81 OOP, get a $8.99 ECB, $5 ECB, $4 ECB, $2 ECB, and $3 ECB ($22.99 in ECBs!)
Make sure you check out all my weekly scenarios and match-ups here.
*This post may contain affiliate links. Please refer to my disclosure policy for more information.