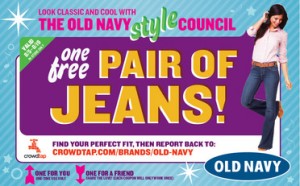 If you love Old Navy clothes, you'll want to make sure you sign up for Crowdtap! Right now, select Old Navy Style Council members will be able to redeem a coupon in-store for FREE jeans and will get an additional coupon to share with one of their friends!  I signed up for this campaign and I'm keeping my fingers crossed! There have been several other Old Navy promotions available where people have been able to grab free shorts, free accessories, and other items!   If you are already a Crowdtap member, you do have to be a member of the "Old Navy Style Council" (you receive this opportunity based on your responses to the Quick Hits) and you have to be at least a level 3 to receive these opportunities.  If you're not a Crowdtap member, sign up now and start completing those Quick Hits so you'll be eligible for other hot promotions as they come up!
If you're not familiar with Crowdtap, you participate in different activities such as "Quick Hits" (short polls), discussions, and they also have product sampling opportunities.  Some of their recent products have come from Old Navy, Vermont Teddy Bear, and Playtex. Plus, you can sign up to host "House Parties." You can also donate to charities, which makes it even better in my opinion. Some of the charities you can choose from include the Susan G. Komen Breast Cancer Foundation, Autism Speaks, the American Red Cross, and the American Society for Prevention of Cruelty for Animals.  I haven't earned a lot from them yet, but I'm having fun with their discussions and Quick Hits!  You can find out more about Crowdtap in this post here.  You can sign up for Crowdtap here!
Has anyone gotten into this campaign yet?

*This post may contain affiliate links. Please refer to my disclosure policy for more information.