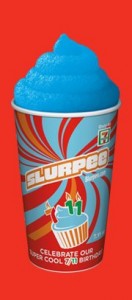 Today is FREE SLURPEE DAY!  I love Slurpees and am so sad that we don't have any 7-Eleven stores anywhere near us!
Stop by for a FREE 7.11 oz Slurpee drink, general merriment and a one-man dance party should you choose to start it. "Running Man" and "Raising the Roof" welcome. "Macarena" NOT welcome.
If you get a free Slurpee today, I'm incredibly jealous!  ENJOY!
*This post may contain affiliate links. Please refer to my disclosure policy for more information