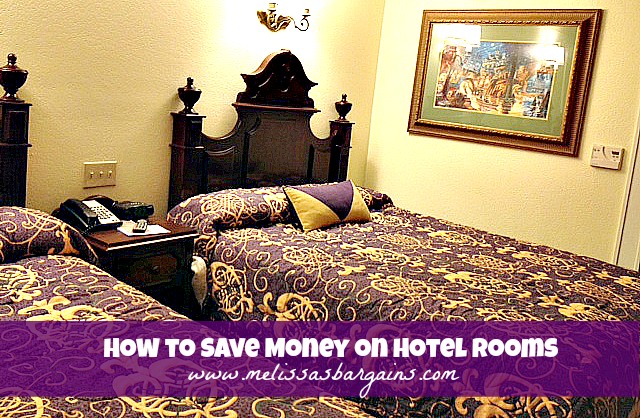 If you're planning a vacation, the cost of hotel rooms can quickly add up, here are some ways that you can save money on hotel rooms!
Make sure you also check out my post about how to save on rental cars here–> How to save money on rental cars
1.  Be flexible in your travel dates – If you have flexibility in your travel dates, many hotel websites have an option where you can look at a calendar and see the rates for each day.  This will help you select the best travel time, especially if there's a specific hotel you're interested him.
2.  Sign up for hotel loyalty programs – If you have a favorite hotel chain, make sure you sign up for their hotel loyalty program.  They will send out special offers throughout the year where you can get discounted rates or earn extra points.  Plus, with your points, you can earn free rooms!
3.  Ask about discounts – Many hotel chains offer discounts to AAA and AARP members as well as discounts for seniors and military.  It never hurts to ask if you don't see the information on their website!
4.  Consider discounted travel sites – Travel sites like Priceline.com allow you to set your own rates to try to claim a hotel room.  You can also get discounted rates through Hotwire.com.  Using this service, you can choose a hotel rating (1-5 stars), but you won't know the actual hotel until you complete your purchase.  To get an idea about what hotels are available and the going rates through discounted travel sites check out Bidding for Travel–> Bidding for Travel
5.  Check out Group Deal sites – Groupon has an entire section dedicated to Getaways!  You can score rooms at resort hotels for rock bottom prices!  Just make sure you read the fine print details before purchasing.  Sometimes there are restrictions, date exclusions, and expiration dates!  Check it out here–> Groupon Getaways
6.  Consider the amenities – Check out the amenities when booking a room.  Does the hotel offer free parking or do you have to pay for parking?  Do kids stay free?  Do they include free breakfast?  Is there a refrigerator where you can store snacks or a kitchen?  Do you get free Wi-Fi?
When we're traveling with our kids, we always look for places where kids stay free and we prefer places where we can get free breakfast, too!  One of our favorite places to stay as a family is in Drury Hotels, which are located in the southern states because kids stay free, you get free breakfast, there are free sodas and popcorn as a mid-day snack, and there is an evening Kickstart that has doubled as "dinner" for us a few times!  Plus, we can often get a suite (which means that we don't have to go to bed when the kids to go bed) for the same price as a regular room at other locations.  And no, they didn't pay me anything to say that!  I just wanted to share that we've found some great deals there!
How do you save money on hotel rooms?  What is your favorite hotel chain?