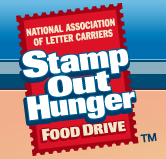 Did you know that 1 in 6 Americans are facing hunger each day?  You can help out today by participating in the Stamp Out Hunger Food Drive!  
Here's how you can help:
1.  If you received a Stamp Out Hunger paper bag in your mailbox this week, just fill it with non-perishable food items!  If you don't have the "official" bag, you can still fill a bag with items to donate!
2.  Place your items by your mailbox for your letter carrier to pick up and donate to a local food bank or food pantry!
It's that easy!  Find out more about this program here–> Stamp out Hunger Food Drive
NOTE:  Please do not donate glass items or items that are already expired.
*This post may contain affiliate links. Please refer to my disclosure policy for more information