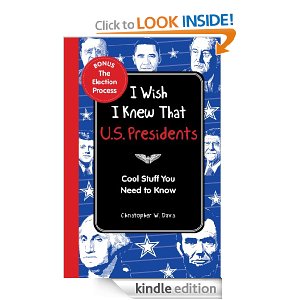 Since President's Day is just around the corner, both of my kids have been learning about US Presidents at school and have been enlightening me about some "fun facts."  When I saw this Kindle freebie this morning, I knew it would be PERFECT for them! Get I Wish I Knew that: US Presidents Cool Stuff You Need to Know FREE for Kindle!
Here is a look at the fascinating profiles of each of the 43 presidents, including the names of their pets! Sidebars are filled with fun and unusual information about our leaders-such as who appears on stamps and money-and "At a Glance" boxes provide birth date, political party, and other vital information, including that:

Thomas Jefferson, our third president, spoke six languages, invented many things (the swivel chair and the pedometer, to name two), and designed and built not only Monticello (his rural home) but also the University of Virginia.
Theodore Roosevelt, was one of the nation's great hunters, and the Smithsonian is filled with hundreds of specimens from his safari in Africa. He was also our first environmentalist president, setting aside nearly 200 million acres for national parks and wildlife refuges.
Click here to grab this freebie–> I Wish I Knew That: US Presidents FREE for Kindle
Here are a few more books for kids that you can get for free:
Don't have a Kindle yet?  Get a Kindle Fire for just $159 shipped!  Click here to get yours–> Kindle Fire for $159 shipped
Find more free Kindle downloads here–> 100 Free Kindle downloads
If you don't have a Kindle yet, you can still read for free on your PC, Smartphone, or tablet with these free Kindle reading apps here–> FREE Kindle reading apps 
NOTE: This book was free at the time of this posting.  Pricing on Amazon can chance at any time. Please verify final pricing before downloading this item.
See more Amazon deals here–> Amazon deals
Thanks Savings Lifestyle!
*This post may contain affiliate links. Please refer to my disclosure policy for more information