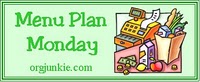 I'm really trying to focus on meal planning again and also planning out breakfasts and lunches, too.  I find that if I have a "plan" it's easier to stick with it!  There are lots of quick and easyrecipes once again this week.
If you're just starting with meal planning or you're in a rut, check out Food on the Table!  I just discovered it last week and it takes the work out of meal planning!  It helps you pick out recipes and then puts together a grocery list for you based on the sales at your local stores.  Print out your list or have it sent to your Smartphone.  It's that easy!  Right now, you can get a FREE membership for life (it's regularly $5 per month!)  Find out more about Food on the Table here–>Food on the Table menu planning
The plan listed here just includes our dinner menu and recipes. I have calculated some Weight Watchers points values using the e-tools Recipe Builder, and points values this week are based on the new Points Plus program! (I will update with points values on the others as we have the meals)
If you've been reading my blog for awhile, then you know that for the past two years, I have done a $40 weekly budget. With the changes to our eating habits and the end of grocery stores in our area doubling and tripling coupons, I'm  finding that is no longer feasible and we end up spending $60-70 per week on groceries instead.
If you're new to menu planning or would like tips for getting started, check out this post here.  You can also view hundreds of meal plans each week at Orgjunkie.com
SUNDAY: Spinach chicken wraps – I grab a caesar salad mix, some grilled chicken, and spinach tortilla wraps. I mix the chicken and caesar salad mix together and fill the wraps! Super easy and everyone loves it!
MONDAY:  Crockpot chicken and rice (slow cooker)
Ingredients:
2-3 frozen chicken breasts
1 pkg McCormick Zesty Herb chicken seasoning blend (sometimes I substitute the Good Seasonings Italian dressing blend if I have it on hand)
1 can cream of chicken soup
2 c. hot cooked rice
Grated cheese
Tomatoes
Celery
Bell peppers
Place frozen chicken breasts in the bottom of the crockpot. Mix ingredients for McCormick seasoning according to directions on the packet and pour over the top of chicken. Cook on low for five hours. Shred chicken in crock pot using a knife and fork. Add cream of chicken soup. Let cook for one more hour. Service over rice with additional toppings as desired (we add cheese, celery, tomatoes, bell peppers, etc. depending on what we have on hand).
TUESDAY:  Melt in your mouth meatloaf (slow cooker) – My family loves this and it's SO easy to make!
WEDNESDAY:  Chicken lickin' good pork chops (slow cooker) – This is another one that is super easy to make and really yummy!
THURSDAY:  Chili (slow cooker)
Ingredients:
1 lb ground beef (brown in skillet and then place in crockpot)
1 can dark kidney beans (drained and rinsed)
1 can Ranch style beans
1 can diced tomatoes
1 can crushed tomatoes
1 packet chili spices
Mix all ingredients in crockpot and cook on high for 5 hours or low for 8 hours. Sprinkle cheese on top.
FRIDAY:  Rice meatballs – This is a recipe from my mother in law.  It's a family favorite and SO easy to make!
Ingredients:
1 cup uncooked minute rice
1 lb ground beef (I use 93/7)
1 egg, slightly beaten
2 t. grated onion
2 t. salt (I cut this in half)
1/8 t marjoram
dash pepper
2 1/2 cups tomato juice (or two 8 oz cans tomato sauce mixed with 1/2 cup water)
1/2 t sugar
Combine rice and all other ingredients except tomato juice and sugar. Form balls and arrange in skillet. Pour tomato juice & sugar over meatballs. Bring to boil. Reduce heat & simmer uncovered 15 minutes.
SATURDAY:  School carnival
*This post may contain affiliate links. Please refer to my disclosure policy for more information.