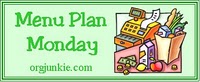 I've slacked off on menu planning lately and I absolutely hate it when that happens!  Here's my attempt to get back on track this week!
The plan listed here just includes our dinner menu and recipes. I have calculated someWeight Watchers points values using the e-tools Recipe Builder, and points values this week are based on the new Points Plus program! (I will update with points values on the others as we have the meals)
If you're new to menu planning and would like an easy way to get started, grab a FREE membership to Food on the Table!  Search their database of recipes and choose your favorites.  They'll generate your grocery list based on the best deals in your area.  You can print it or send it to your Smartphone!  It's awesome!  Click here to grab your membership–>Food on the Table subscription FREE for life
If you've been reading my blog for awhile, then you know that for the past two years, I have done a $40 weekly budget. With the changes to our eating habits and the end of grocery stores in our area doubling and tripling coupons, I'm  finding that is no longer feasible and we end up spending $60-70 per week on groceries instead.
If you're new to menu planning or would like tips for getting started, check out this post here.  You can also view hundreds of meal plans each week at Orgjunkie.com
SUNDAY:  Creamy chicken enchiladas – This is a family favorite and we haven't had them in awhile, so everyone was super excited!
Ingredients:
1 can cream of chicken soup (I use the 98% FF kind)
1 can cream of mushroom soup (I use the 98% FF kind)
2 cans green enchilada sauce
1 8 oz-16 oz. tub of sour cream (depends how spicy you want the enchiladas)
2-3 chicken breasts, shredded (if I'm in a hurry, I use canned chicken)
8 oz cheese, shredded
1 dozen flour tortillas (you could use corn also) – we are using whole wheat!
Add cream of chicken soup, cream of mushroom soup, and enchilada sauce to a pan. Cook on medium low heat, stirring occasionally. When sauce is will mixed and starts to thin, add sour cream. Continue stirring occasionally until the sauce is well mixed and thinned out. Place a layer of the sauce along the bottom of a 9X13 baking dish. Fill each tortilla with the shredded chicken, sauce, and cheese. Roll and place in the baking dish. When you have filled all of the tortillas (this should make 1 dozen), pour the remain sauce over the top of the enchiladas and then cover with cheese. Bake at 350 degrees for 25-30 minutes until the cheese is well melted.
WW points = 6 points per enchilada 
MONDAY:  Weight Watchers Pizza Pasta Casserole – I found this recipe on Pinterest.  This comes to you courtesy of Recipe Diaries.  It's just 6 points per serving!  This was a HIT and the kids had fun helping me make it.  Pictures and a full review will be coming to you later this week!
Ingredients:
1 lb ground lean turkey sausage
1 medium onion , chopped
1 clove garlic , minced
1 teaspoon italian seasoning
2 teaspoons olive oil
1 (26 ounce) jars spaghetti sauce
8 ounces rotini pasta , cooked and drained
2 cups shredded reduced fat mozzarella cheese (20 oz)
32 slices of turkey pepperoni
Brown ground beef, onion, garlic and seasoning in oil.  Stir in pasta, spaghetti sauce and 2 cups cheese.  Place mixture in 2 greased 9x13x2 inch baking pans or 4 square pans.  Sprinkle with remaining mozzarella.  Top with pepperoni.  Bake uncovered at 350 degrees for 25-30 minutes, until heated through.
TUESDAY:  Rice meatballs – This is a recipe from my mother in law and my whole family loves it!
Ingredients:
1 cup uncooked minute rice
1 lb ground beef (I use 93/7)
1 egg, slightly beaten
2 t. grated onion
2 t. salt (I cut this in half)
1/8 t marjoram
dash pepper
2 1/2 cups tomato juice (or two 8 oz cans tomato sauce mixed with 1/2 cup water)
1/2 t sugar
Combine rice and all other ingredients except tomato juice and sugar. Form balls and arrange in skillet. Pour tomato juice & sugar over meatballs. Bring to boil. Reduce heat & simmer uncovered 15 minutes.
WW points = 7 points per serving
WEDNESDAY:  Sandwiches – It's "hump" day and it's when I start feeling the burn out!  I'm making it easy tonight and we'll have a variety of lunch meat, cheese, condiments, and hoagie buns to make our own sandwiches!
THURSDAY:   Sweet potato foil pack tacos ~ I found this recipe on Marci's blog.  My family was skeptical the first time we tried these, but once they actually tasted them, they were a hit, even with my kids! (and that's not an easy feat!)
Ingredients:
1/2 lb ground beef or turkey
2-3 T taco seasoning
1/2 cup tomato sauce (4 ounces)
1 can black, kidney, or pinto beans, drained (I use pinto or ranch style beans when I make this)
2-3 medium sweet potatoes, peeled and cut into 1/2-inch cubes (about 6 cups total)
2 T butter
salt
1 1/2 cups chopped fresh spinach
1 1/2 cups shredded cheddar cheese
sour cream, salsa, and/or guacamole for garnish
6 12-inch long pieces of aluminum foil
Directions:
Preheat oven to 425 degrees F.
Brown ground meat in a skillet over medium-high heat. Stir in taco seasoning, tomato sauce, and beans. Set aside.
To assemble packets, spray the foil with non-stick spray. Place 1 cup sweet potato cubes in the center of each piece. Top with a small piece of butter (about 1 tsp) and a pinch or two of salt. Sprinkle some chopped spinach over the sweet potatoes, followed by about 1/3 cup of taco meat and sprinkle of cheese. Fold the sides in, then bring the top and bottom ends of the foil together in the center and fold, sealing the packet.
Repeat with remaining ingredients, placing the packets on a rimmed cookie sheet. Bake for 25-30 minutes until the sweet potatoes are tender.
Serve with sour cream, salsa, and/or guacamole.  Makes 6 servings.
FRIDAY:  Shredded lime tacos (slow cooker) – I got this recipe from Marci's blog awhile.  We tried it and loved it, so it's back again!
Ingredients:
* 1 1/2 pounds skinless, boneless chicken breast meat – cubed
* 1/8 cup red wine vinegar
* 1/2 lime, juiced
* 1 teaspoon white sugar
* 1/2 teaspoon salt
* 1/2 teaspoon ground black pepper
* 1/4 cup cilantro, chopped
* 1/2 white onion, chopped
* 2 cloves garlic, minced
Directions:
Mix together vinegar, lime juice, sugar, salt, pepper, onion, garlic and cilantro. Put in crock pot with chicken and cook on low 6 hours. Shred chicken apart with forks and serve in tacos with toppings of choice!
WW points:  4 points per serving (makes 6 servings).  I serve with 1/2 cup fat free refried beans (2 points), a whole wheat, low carb tortilla (4 points)
SATURDAY:  Country Ham and Macaroni Casserole – This is without a doubt my kids FAVORITE recipe.  They would eat it multiple times a week if that was an option!  The best part?  You can make two at once and freeze the second one!  The kids have been begging for it!
Thanks to Sandy~Bettyinthekitchen (BabyCenter.com Cooking for Your Family Board)
1 lb country ham slices or regular smoked ham in one piece (I just use whatever leftover ham we have on hand)
1 large onion, diced
1 lb elbow macaroni
2 cups shredded extra sharp cheddar cheese (8 oz) – I use reduced fat
1 cup sour cream (I use reduced fat)
1 can cream of chicken soup (I use 98% fat free)
1/4 cup (1/2 stick) margarine, melted (I don't use this when I make it)
1 cup dry plain bread crumbs
1. Heat oven to 400º.
2. Bring 4 quarts water and ham to boiling in large pot. Once water begins to boil,
remove ham to a plate. Add onion and macaroni to pot. Return water to boiling; cook 8 minutes, stirring occasionally.
3. Coarsely chop ham, discarding any fat and bones.
4. Drain macaroni and onion and return to pot. Add ham, cheese, sour cream and soup. Scrape into a 13x9x2 baking dish. Pour melted margarine over top. Sprinkle with bread crumbs.
5. Bake in heated 400º oven 30 minutes or until heated through and top is golden brown.
Let stand 5 minutes before serving.
Note: Prepare in two 8×8 casserole dishes, bake one and freeze one (unbaked) for another day. If freezing, top with crumbs and margarine right before baking.
WW points = 9 points per serving (with modifications above), makes 8 servings
*This post may contain affiliate links. Please refer to my disclosure policy for more information.