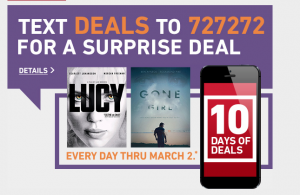 The popular Redbox 10 Days of Deals by Text promotion is back!  Text 72727 for a surprise deal every day thru March 2, 2015!
Here are more ways to get Free Redbox Codes:
1.  If it's your first time renting, you can enter this code–> REDBOX
2.  If you haven't signed up to receive text messages yet, text the word SIGNUP TO 727272 and you'll receive a code for a free Redbox movie rental!  
Text MOVIENIGHT to 727272 for a free rental.
Text MOVIE TIME to 727272 for a free rental
Text DEAL to 727272 for a free rental
Text APPNOW to 727272 for a free rental via the Redbox app
Text GAMEKIDS to 727272 for a free 1-day video game rental
3.  You can also get a free movie rental if you reserve your movie online.  After you return the movie you reserved online, you'll receive an e-mail with a free rental credit.  Create your online account  here–> FREE Redbox movie night   (I have also been getting codes by e-mail since I created on online account!)
4.  Try these codes:  you can use them once per card (please let me know if any are expired):
DVDONME
BREAKROOM
DVDNIGHT
DVDATWAG (good only at Walgreen's locations)
WALGREENS (good only at Walgreen's locations)
RDBOXHEB (good only at HEB locations
DVDATWEG (good only at Wegman's locations)
DVDKROG (Good only at Kroger locations)
DRIVEIN (good only at Sonic locations)
NOTE:  You do have to swipe a credit or debit card to "rent" the movie and you will be charged $1 per night if you do not return the movie before 9 p.m. the following day.  To enter your Redbox codes, look for a circle at the bottom of the screen at check out that says "promotion code" and enter it there!
If you know of any other Redbox free codes, let me know!
See all my current freebie posts here–> Freebies