One of the ways that I save extra money to use for our "100% cash Christmas" is by completing surveys. Through the years, I have had some ups and downs when it comes to survey companies. Nothing is more frustrating than signing on with a survey company only to find out that they send you lots of screener surveys that you spend a lot of time completing only to be told that you "didn't qualify." I have been with E-Poll and Pinecone Research for several years now and one of the things that I love is that they send you surveys that you already qualify for! I just signed on with Opinion Outpost in March, but I've already had great experiences with them!
Pinecone Research is currently accepting new female applicants. If you are not familiar with Pinecone Research, you can only sign on with them during active recruiting periods. Once you have been accepted by them, they send out a set of "Household Questions" to gauge your interests and buying habits every few weeks and based on your responses to those questions, they will send you surveys that you qualify for. You receive $3 (you can choose to be paid via Paypal or check) for every survey that you complete. I usually receive payment the day after I complete my survey. I have also completed product tests for them. You receive compensation for completing the product test and for the surveys associated with it.
The surveys I have received from E-poll typically relate to TV shows. They are quick and fun to complete. You usually receive 500 to 1,000 points per survey. You can exchange the points for gift cards to a variety of places including Amazon, Target, Best Buy, and McDonalds. I usually save up my points throughout the year and then cash out in November, so I have gift cards to use for Christmas.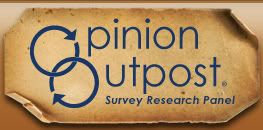 I receive more survey opportunities from Opinion Outpost than I do from Pinecone Research and E-poll. You will receive an e-mail from them when there are 'available' surveys for you to complete. You will be asked to complete a short screener and then, if you meet the criteria for the survey, you will be directed to the actual survey. You receive $1 for every 10 points that you receive and payment is via check. You can choose to cash out every time your balance reaches a minimum of $5. You can learn more about Opinion Outpost here or sign up here.
*This post may contain affiliate links. Please refer to my disclosure policy for more information.