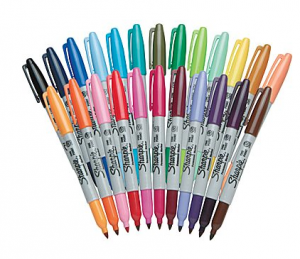 If you missed the Sharpie deal last week, here's another one for you!  Get 24 Sharpie markers for $10 shipped!  The Sharpie deal last week sold out VERY quickly, so grab this one while you can!
Click here for the deal–> Sharpie Deal:  24 Sharpie markers for $10 shipped
Make sure you check out their Back to School Center for these great deals–> Staples Back to School Center
Composition notebooks – $.50 each
Bic Mechanical pencils (5 ct) – $1
Staples #2 yellow pencils (12 ct) – $.68
Staples 12″ wood ruler – $.25
Staples School Glue – $.39
Crayola crayons (24 ct) – $.50
Classic Crayola Markers (10 ct) – $.97
1 Subject notebooks – $.17
If you have a Staples Rewards account (it's free), you'll get FREE SHIPPING!  You can also ship to your local store for free!  You can order up to 10 of each.  Teachers LOVE these!
Get your Staples Rewards account here–> Staples Rewards
Is this deal sold out?  Check out these other Back to School Deals:
Amazon School Supplies starting at $.50
See more Back to School Deals here–> Back to School 2014
NOTE:  This post contains affiliate links and I will be compensated if you make a purchase using the links in this post.