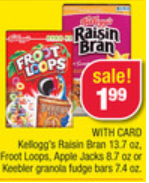 We go through A LOT of cereal in my house and even though I will take advantage of a great sale and think I'm stocked up, a few weeks later, I am always wondering where all the cereal has gone!  This week at CVS, you can get Raisin Bran cereal for $1.49 after coupons.  This isn't the best cereal deal, but it's not a bad one, especially if you need cereal!
Click here to print your coupon–> $1 off 2 Kellogg's Raisin Bran coupon
Here's the breakdown at CVS:
Buy 2 Kellogg's Raisin Bran cereals – $1.99 each
–$1 off 2 Kellogg's Raisin Bran coupon
Final Price = $1.49 each
You can also get Froot Loops and Apple Jacks for $1.66 per box with this coupon–> $1 off 3 Kellogg's Froot Loops, Apple Jacks and Corn Pops cereal coupon
http://cdn.cpnscdn.com/insight.coupons.com/COS20/_Cache/_ImageCache/060/17420060.gif
Don't forget that you can price match at Walmart or Target if your stores are sold out!
(Thanks I Heart the Mart!)
*This post may contain affiliate links. Please refer to my disclosure policy for more information