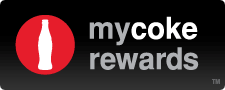 If you collect My Coke Rewards points, there are 30 free rewards points available right now!  If you haven't started collecting My Coke Rewards points yet, now is the time to get started!  When you enter free points like these and codes from the caps and packaging on Coke products, you can earn freebies including gift cards and coupons!  You can even earn free Coke products!  Even if you have entered these before, they have been re-setting DAILY, so try entering them again!  I'm up to 90 points now!
Click here to sign up for My Coke Rewards if you aren't registered yet–> My Coke Rewards registration 
Here are your free My Coke Rewards codes:
10096122897198
10096071476917
10095913378567  
UPDATE:  Thanks to Jennifer for sharing this tip.  If you have two codes from 20 ounce Coke products, enter the code coke2012 and you'll get 10 bonus points, too!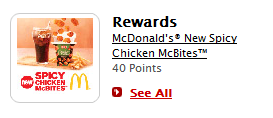 Thanks also to Marlana for sharing the tip that you can enter each code twice (I just tried it and it really works!).  This gives you 60 points total, which is enough for free McDonald's Spicy Chicken McBites!
Here are some other freebies you can score:
25 free 4X6 photo prints from Shutterfly – 25 points
Free PowerAde, Coke, Nestea, or Minute Maid – 40 points
50 free 4X6 photo prints from Shutterfly – 50 points
What is your favorite freebie you've scored with My Coke Rewards points?  I got two coupons for free 12 packs of Coke products and I combined that with a Buy 2, get 3 free sale at my local Randall's store, so I got five 12 packs of Coke products for free!
*This post may contain affiliate links. Please refer to my disclosure policy for more information