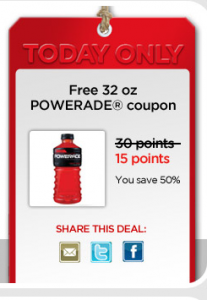 It's Wednesday, which means that My Coke Rewards has another special offer! Today's offer is a FREE Power Ade coupon for just 15 points. This coupon is regularly 30 points.
If you're not familiar with My Coke Rewards, here's how it works:
If you drink Coke products, save your bottle caps or the codes on your boxes and enter them here to earn points! The points can be redeemed for gift cards, magazine subscriptions, merchandise, or more Coke products!  If you have friends or family members who don't collect Coke points, ask them for their codes, too!  This is a quick and easy way to earn some freebies from something you're using regularly anyway! You'll be surprised at how quickly the points add up!
*This post may contain affiliate links. Please refer to my disclosure policy for more information