*I received a gift certificate to purchase and share HoneyBaked Ham products with my family. All opinions are 100% mine.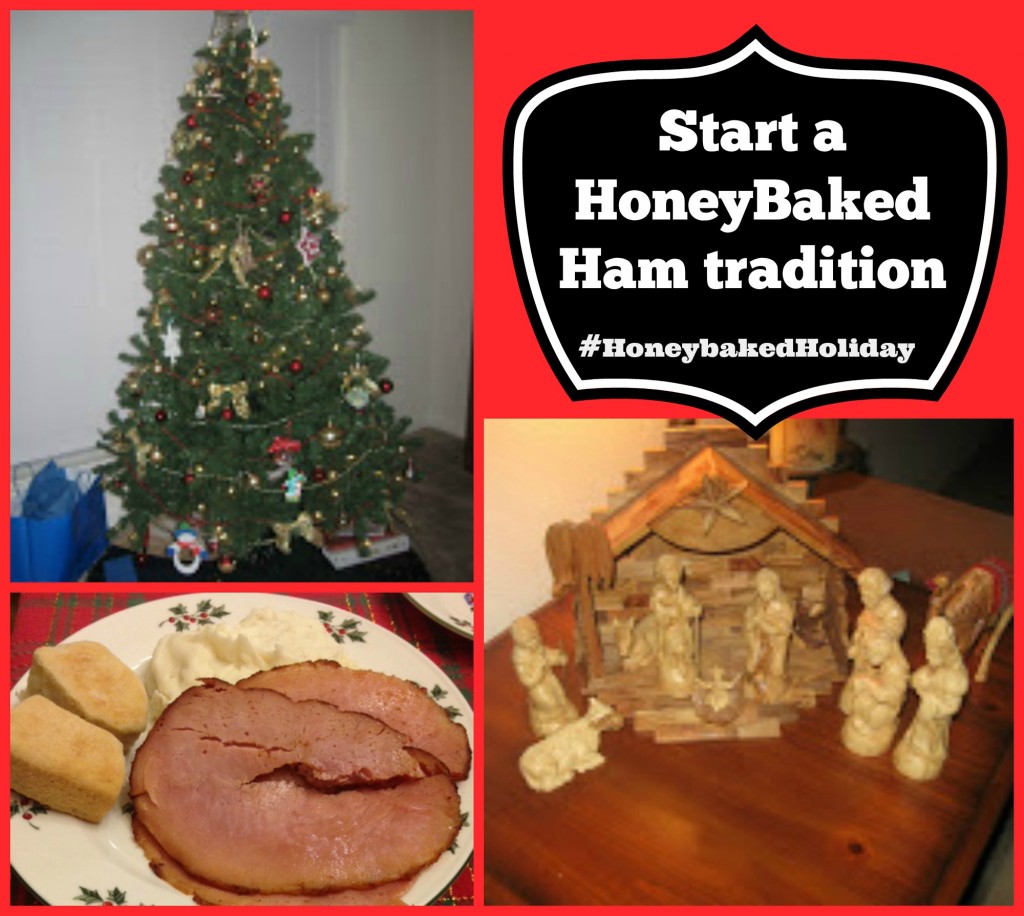 Christmas is a time for traditions!  Some of my favorite Christmas traditions include decorating the Christmas tree, putting out our favorite nativities, taking my kids to visit Santa Claus, and spending time with family and friends.  Sometimes the holiday season gets SO hectic that it's hard to find the time to just sit back and enjoy the moment.  Make HoneyBaked Ham part of YOUR Christmas Traditions and take a break from cooking this year!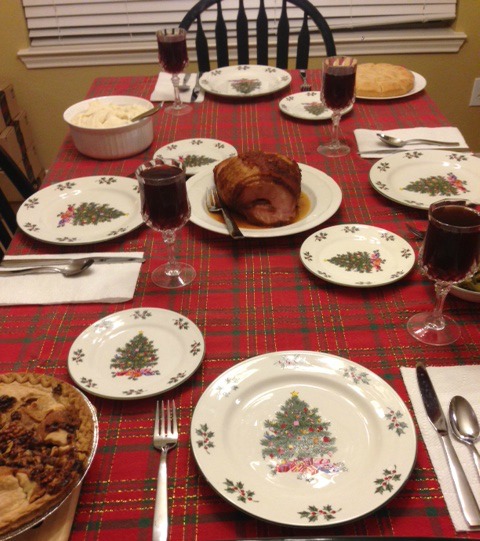 Growing up, we used special Christmas china during the entire month of December (and sometimes we started around Thanksgiving).  I loved it!  When my husband and I were first married, I told him about this family tradition, and we purchased our own set!  Although we don't use it for the entire month of December, we do use it for special occasions including family dinners!  With HoneyBaked Ham, you can still enjoy your "traditional" Christmas dinner, including your favorite Christmas china, without having to do all of the work to create a big meal!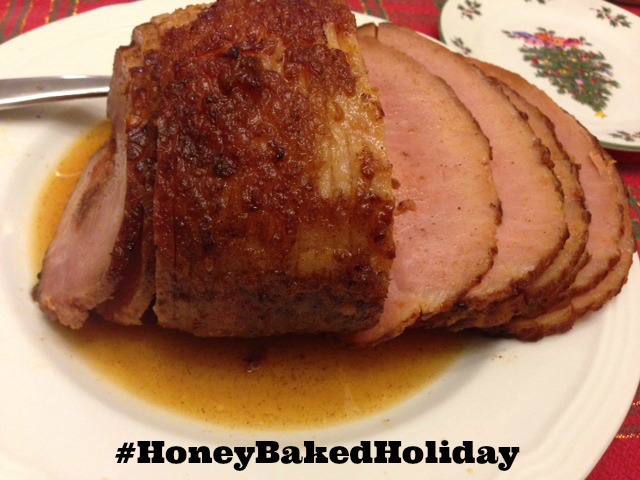 I can still remember the first time my family had a HoneyBaked Ham at Christmas!  My dad was given a gift certificate from work, and we visited our local store and picked out a ham and turkey!  It was delicious, and I've considered it a special "treat" every time I've had it since then!  As an adult, I appreciate it even MORE because I get to enjoy a tasty Christmas dinner without all of the work.
This year, I visited my local HoneyBaked Ham store on Memorial Drive in Houston and purchased a boneless ham, garlic mashed potatoes, green bean casserole, and an Apple Caramel Walnut Pie for Dessert.  The pie took about an hour to cook, the Heat & Share Sides took 10 minutes to cook (if they are frozen), and I put the ham in the oven for about 30 minutes to heat up.  I also cooked some heat and serve rolls that I purchased at my local grocery store.  The preparation for this entire meal was less than an hour, but involved very little work on my part!  I love that the ham was already sliced, too!  The easier, the better!  I served it on my holiday dishes, and no one knew I hadn't spent the day slaving in the kitchen!  I got lots of compliments.
I am not a fan of pie, and when I do eat pie, apple pie is one of my least favorite, but the Apple Caramel Walnut Pie was TRULY amazing!  I don't have a lot of patience with pie dough, so we rarely have pie, and it's great to be able to enjoy dessert without effort, too!
HoneyBaked Ham has everything YOU need to create the perfect holiday meal for YOUR family, too!
A classic HoneyBaked Ham, Whole Turkey or Turkey Breast:
Bone-In Half Ham (7-12 lbs., Serves up to 20)
Quarter Ham (4.5 – 7 lbs., Serves 6-10)
Boneless Ham (Approx. 4 lbs, Serves 8-10)
Whole HoneyBaked Ham (13-16 lbs., Serves up to 30)
Ham Slices (available by the pound)
Whole Turkey (11-13 lbs., Serves 10-12)
Roasted or Smoked Turkey Breast (Approx. 3 lbs., Serves 6-8)
Heat & Share Sides: As the name implies, all you have to do is heat them right in the package
Dessert of your choice
You won't bust your budget, either!  They've got a variety of affordable options, and you can also sign up for their VIP Coupons to save even more!  You can even reserve your entire holiday meal online and it will be ready and waiting for you when you visit your local store!  At this time of year especially, I am all about simplicity!
From now until 1/11/15 you can enter to win a $25,000 HoneyBaked Kitchen Makeover when you buy a Ham and Turkey Breast bundle.
Check out this amazing limited time coupon for $8.00 off any Bone-in Ham and Turkey Breast or Boneless Ham and Turkey Breast from HoneyBaked Ham to help you make your holiday dinner easy and delicious! (This offer is valid only at the following locations: Rolling Meadows, Orland Park, Villa Park, Morton Grove, Naperville, Chicago, Dallas, Fort Worth, Arlington, Plano, Mesquite, Hurst, Lewisville, Houston, Austin, Spring, Clear Lake, Sugar Land, Indianapolis, Ferndale, Grand Rapids, Roseville, Birmingham, Troy, West Bloomfield, Livonia, Flint, Dearborn Heights, Sterling Heights, Taylor, Ann Arbor, Canton Township, Oklahoma City, Pittsburgh, Mechanicsburg, Monroeville, San Antonio, Bellevue, and Lynnwood. For store addresses click here.)
Donate $1.00 to Feeding America during checkout at the register of any HoneyBaked store. $1.00=10 Meals!
What are YOUR holiday traditions?