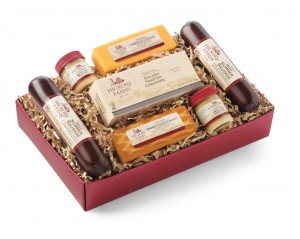 For more than 60 years Hickory Farms gifts have been a classic holiday tradition that brings family and friends together.  When I was growing up, Hickory Farms was ALWAYS a part of our holiday festivities!  I can remember visiting the kiosk in the local mall to buy cheese balls, beef sticks, and Melt Away Mints!  We always had Hickory Farms on New Year's Even and sometimes we had it on Christmas Eve or at other family gatherings throughout the season.  Now that I'm married and have a family of my own, Hickory Farms has continued to be a part of my family's holiday traditions!  Hickory Farms not only embraces passing down traditions through generations of families, but also creating new traditions and sharing them with loved ones.
Hickory Farms Holiday Traditions
I love that now we can order all of our Hickory Farms favorites from home and have it delivered right to our doorstep!  Wondering where you can find Hickory Farms products in your area?
Online at Hickoryfarms.com
In over 700+ Holiday Market stores and kiosks across North America, as well as in select retailers
My family received the Beef Hearty Hickory Gift Box pictured above from MomTrends and Hickory Farms.  It didn't last long in my house!  My husband and kids wanted to open it the night it arrived!  The summer sausage is always a favorite and it included two different kinds of cheese, too!  We loved it and there were no "leftovers"
I'm super excited that I have been given the opportunity to give away a Beef Hearty Hickory Gift Box to one lucky reader, too!
Enter to win below:
a Rafflecopter giveaway
Disclaimer: Compensation and products for review were provided by Hickory Farms via MomTrends. I received a free sample of the product for the purpose of this review and to facilitate a giveaway.  The opinions expressed herein are those of the author and are not indicative of the opinions of Hickory Farms.