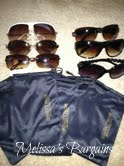 For several years, I have been ordering from Graveyard Mall and never had any issues.  The sunglasses and the socks were two of my favorite deals.  Shipping has always taken awhile with them, but I have always received my items, so I really hadn't thought much about the delay in shipping my items.  After about six weeks, I finally started to get worried.  I checked my account and contact customer service.  They assured me that everything was fine and that they were just backed up due to all the orders that had been placed.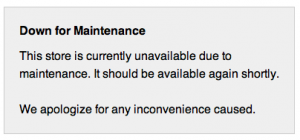 When I first saw this message, I wasn't overly concerned.  I get up really early to blog and many sites are undergoing maintenance during that time.  But…when the same message appeared all day for a few days, I got worried.
I tried contacting customer service by phone and e-mail with no luck.  It appears that Graveyard Mall is out of business.  If you had orders pending, and you're wondering how to get your money back, you can contact Paypal or your credit card company and file a dispute for items not received.
If you paid using Paypal, you can file your dispute here–> Graveyard Mall out of business? How to get your money back

I want you to know that I personally check out every offer I post and typically do not post offers that I would not take advantage of myself.  In this case, I had three orders for sunglasses pending!  I'm very sad that it has come to this because I loved getting my big box of sunglasses every year!