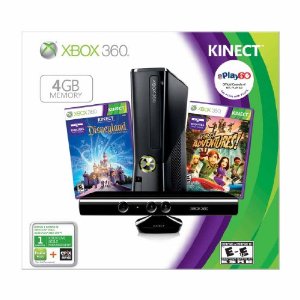 Amazon will have new Lightning Deals on video games beginning at 5:10 am PST!  This is a great way to grab your favorite games at rock bottom prices!
See the full calendar here–> Amazon Black Friday Video Games Lightning Deals calendar
Check out the Black Friday Lightning Deals here–> Amazon Black Friday Lightning Deals
Here's the schedule for today:  you'll find hot deals on XBox bundles, games and more!
5:10 am-9:10 am PST
Halo 4 (Xbox 360) – $59.95 + $20 gift card and $10 Amazon instant video credit
XBox 360 Console 4 GB with Kinect Holiday Value Bundle – $199.99
SSX (Xbox 360/PS3) – $15.99
Twisted Metal (PS3) – $25
World of Warcraft:  Mists of Pandaria (PC) – $39.99
Syndicate (Xbox 360/PS3/PC) – $15.99
Ear Force PXS Programmable Wireless 7.1 Dolby Digital Surround Sound Headset with Bluetooth – $149.99
Spec Ops:  The Line (Xbox 360/PS3) – $15
Borderlands (Xbox 360/PS3) – $15
UFC Personal Trainer (Xbox 360) – $10
Borderlands 2 (Xbox 360/PS 3) – $25
9:10 am-1:10 pm PST
Wipeout 3 (Xbox 360/Wii) – $25
Call of Duty:  World at War (Xbox 360/PS3 – $10
Cabelas Survival:  Shadows of Katmai (Xbox 360/PS3) – $10
Call of Duty:  Modern Warfare 2 – $10
LEGO Pirates of the Caribbean (Xbox 360/PS3/Wii/3DS/DS) – $9.99
God of War Saga Collection (PS3) – $15
Kinect Star Wars (Xbox 360) – $25
WWE '13 (Xbox 360/PS3) – $25
XCOM:  Enemy Unknown (Xbox 360/PS3) – $25
1:10 pm-5:10 pm
Phineas and Ferb:  Across the 2nd Dimension Nintendo DS – $14.99
Brave (XBox 360/PS3/Wii/DS) – $12.99 ($7.99 for the DS)
Grand Theft Auto IV & Episodes from Liberty City:  The Complete Edition (Xbox 360/PS3) – $15
Max Payne 3 (Xbox 360/PS3) – $15
If you haven't attempted Lightning Deals before, make sure you have the item ready and click on the Gold Box Lightning Deal Offer when it's live.  It looks like this: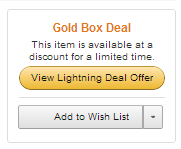 If they are already sold out, you will have the option to join the waitlist and claim the item later if others do not follow through with their purchase.  That option looks like this: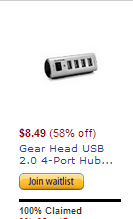 See more Amazon deals here–> Amazon deals
Make sure you keep your holiday packages safe this year with your free UPS My Choice Membership–> Keep your packages safe this year with your free UPS My Choice membership