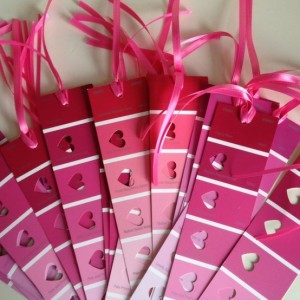 Day #2 of Valentine's Day fun is coming to you again courtesy of Pinterest. My friend Lacey posted a picture of bookmarks made out of paint samples. They were super cute (especially since I've got a daughter who is in to things like that right now!), super easy to make, and SUPER cheap! The paint samples are free, the ribbon was $.47 at Walmart, and we already had a variety of heart-shaped hole punches! That's all you need!
The educator in me had to take advantage of some "learning" as we did this, too, so we talked about patterns (since we had different hole punches) and it's a great way to work on fine motor skills, too!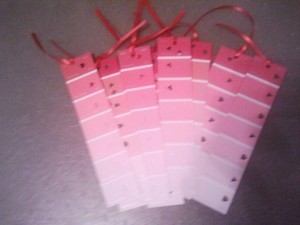 Lacey's picture turned out MUCH better than mine! I'm definitely not a photographer and my husband has our "good" camera right now, anyway. My kids had a lot of fun with this, though!
If you aren't already, make sure you follow me on Pinterest–>

If you like this idea, make sure you "pin it" and share it with your friends! Pin it here–>Pin It