If you're a procrastinator, it's not too late to celebrate your mom and let you know you love her!  Don't forget grandmothers, too!  Here's a round up of last minute DIY Mother's Day gift ideas!
Make sure you check out my round-up of Mother's Day coupons and deals here–> Mother's Day freebies, coupons, and deals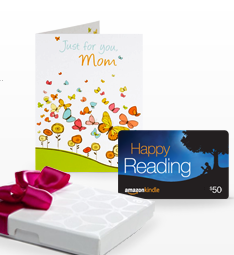 If you don't have time to MAKE something, an Amazon gift card is a PERFECT last minute Mother's Day gift idea!  You can choose your amount and send it by e-mail, give it on Facebook, or print it out and put it in a card!
Get yours here–> Amazon gift card for Mother's Day

Check out this super cute Love you to Pieces Mother's Day Card my son made for his morning with mom at school!  It's super easy!
1.  Trace a handprint or use fingerpaint to make a hand print with the word "MOM" in the first section.
2.  Color a picture and write "I Love You" in the second section
3.  In the third section, make a collage using pieces of paper and write "To Pieces"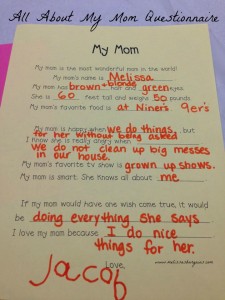 I have gotten a few of these All About My Mom Questionnaires from my daughter through the years and they're always precious.  This was my first one from my son!  If only I weighed 50 pounds!
Use this one as a guide to create your own or take advantage of one of these free printables: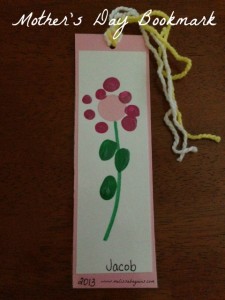 This Mother's Day bookmark is SO cute!  All you need is some fingerpaint, construction paper, and yarn!  The petals and leaves are made with thumbprints!  You can laminate if if you choose and add this poem on the back:
This little flower is special, you see
Because it was made from a part of me
My painted thumb made each flower part
To show I love you with all of my heart!

Happy Mother's Day
What mom doesn't love hugs and kisses combined with a little chocolate?  Here's a spoon full of hugs and kisses (with tissue paper and a ribbon to secure it) and the "scoop" about mom!
You can grab the free printable here–> The Scoop Mother's Day Edition
Here are more DIY Mother's Day ideas from previous years:
I hope you all have a very happy Mother's Day!
*This post may contain affiliate links. Please refer to my disclosure policy for more information