The reviewer has been compensated in the form of a Best Buy Gift Card and/or received the product/service at a reduced price or for free.
If you've ever thrown your clothes in the dryer to get out the wrinkles because you don't have time to iron (I'm guilty of this ALL the time!), you'll LOVE the new SWASH™ System!  It will Dewrinkle, Refresh, Restore and Preserve your clothes so you can say goodbye to excessive washing, drying, steaming, ironing, and dry-cleaning, and say hello to living life unhampered!  The entire process takes just 10 minutes!!!  This means your clothes will be ready to go in the time it takes you to shower!  Plus, it's designed to fit ANYWHERE in your house!  Place it in your bedroom or in your closet and no one will even notice!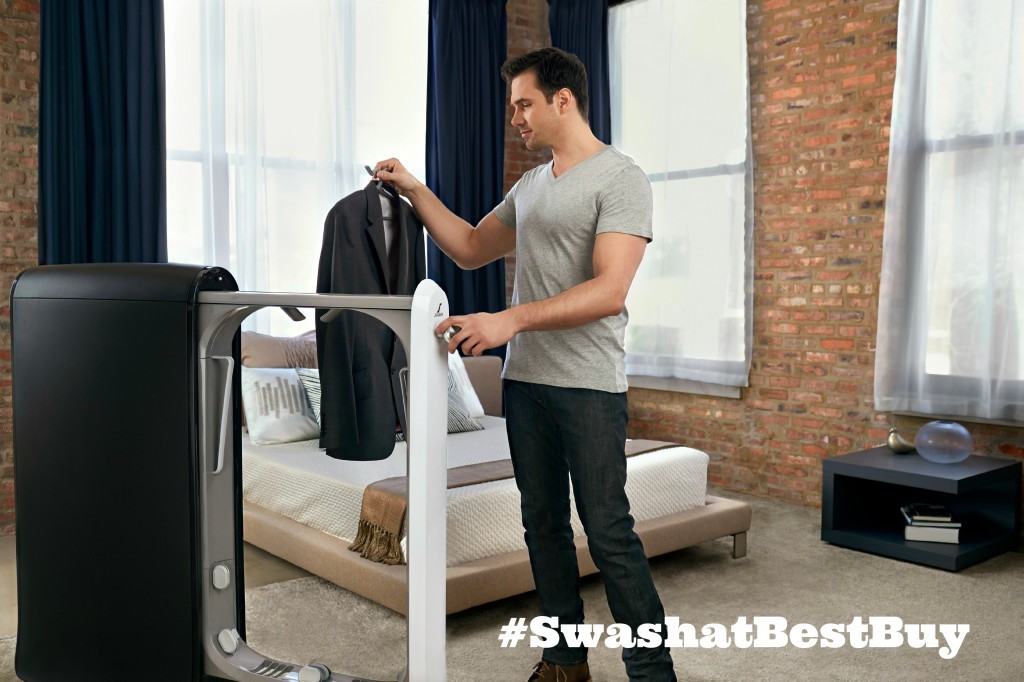 The Swash Clothing system includes two adjustable hangers which expand and contract for various clothing types!  Get two clothing items ready at once!
Here are some of the ways the new Swash clothing system will change your life: and save you money, too!
Saves You Time– Allows garments to look their best in as little as 10 minutes! No more excessive washing, drying, ironing and dry cleaning.
Saves You Money– People who dry clean at least once a month spend about $758 in a year! With the SWASH system, you can cut your dry cleaning bills by 50%!
Saves Your Clothes– The SWASH system is gentle and doesn't wash away dyes or cause pilling or fading, so you can actually extend the life of your clothes.
Installation is quick and easy!  All you have to do is plug the unit into a 120-volt standard wall outlet!  No water, plumbing, pipes, vents, professional installation or special hookups are required.  Place your items inside and check out the Intuitive Light System while you wait!  A series of white, blue and orange lights count down cycle lengths and completions, and signals when an error has occurred.  It includes additional items like smoothing clips and a pocket smoother for dress shirts!
The SWASH™ System is currently ONLY available at Best Buy!  Visit your local store to see it in person or find out more online here–> The SWASH™ System
Take advantage of these offers at Best Buy and save even more:
5/17-6/6 – Buy any Whirlpool laundry pair, get $150 off Swash clothing care system
6/7-6/20 – $75 Best Buy Gift Card when you buy a SWASH System
Do you have one??? What do you think??