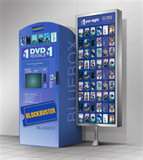 Celebrate summer with FREE movies from Blockbuster Express! It's a great way for me to keep the kids entertained (and bring some temporary peace and quiet to the house so I can get a few things done).
There are currently five free codes available:
22JMEB4 (good through 6/8)
25ASJA9 (good through 6/13)
29BACC2 (good through 6/13)
25JBHS7 (good through 6/13)
26RRAP8 (good through 6/13)
The codes can be used once per card.  Search for a participating Blockbuster Express kiosk in your area here.
NOTE: You will be charged a fee of $1 per night if you do not return the movie by 9 p.m. on the night following your initial rental.
What's on your "watch list" this summer?
(Thanks Deal Seeking Mom!)