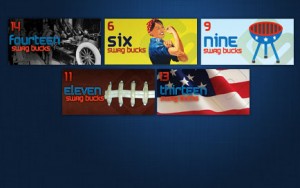 Hey Swagbucks fans! It's a NEW month, which means it's time to cash out for your Amazon gift cards for the month if you maxed out and got your 5 $5 gift cards last month (I sure hope you did!)  Remember, you can cash out for up to two prizes in one day and a total of five of the same prizes in one month.  The $5 Amazon gift cards will give you the most bang for your buck!
If you haven't signed up for Swagbucks yet, you're missing out on your chance to get FREE Amazon gift cards!  For more information about Swagbucks and how it works, check out this post here –> How Swagbucks works  (if you're already signed up for Swagbucks, but feel like you don't know how it works, this post is also a great resource for you to help you maximize your earnings!)  If you're ready to sign up for Swagbucks, you'll get a 30 point bonus when you sign up here–> Swagbucks sign-up 
For those of you who are already signed up for Swagbucks, I've got GREAT news!  Through Monday, September 5th, you can earn the five Collector's Bills pictured above.  If you get all five, you'll also get a bonus 10 Swagbucks!  Start searching now!
*This post may contain affiliate links. Please refer to my disclosure policy for more information