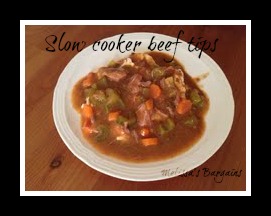 I found this recipe in Taste of Home Magazine a few years ago.  I haev found that there are lots of great slow cooker recipes using chicken, but recipes using beef are harder to come by.  This recipe is easy to make (I can throw it together in about 5 minutes in the morning if I buy the pre-cut stew meat) and my whole family loves it.  We usually serve ours over mashed potatoes instead of noodles.
Ingredients:
1 beef top sirloin steak (1 pound), cut into 1-inch cubes
2 to 3 medium carrots, chopped
1 to 1-1/2 cups chopped celery
1 cup chopped onion (I omit)
1 can (10-3/4 ounces) condensed golden mushroom soup, undiluted
1/2 to 1 cup white wine or beef broth
2 teaspoons cornstarch
1/4 cup cold water
Hot cooked egg noodles
Directions:
In a 3-qt. slow cooker, combine the beef, carrots, celery, onion, soup and wine or broth. Cover and cook on low for 6-7 hours or until meat is tender.
Combine cornstarch and water until smooth; gradually stir into cooking juices. Cover and cook on high for 15 minutes or until thickened. Serve with noodles.
NOTE:  I also add a beef bouillon cube for flavor when I put everything together in the slow cooker.