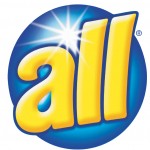 If you haven't printed the $1/1 All laundry detergent on coupons.com already, you'll want to print that here now.  The printable coupons often re-set at the end of the month!
If you've already printed the All coupons on coupons.com, there's another All printable here on Facebook!
You can print two of each per computer, so four total per computer!  Now, I'm hoping for a great deal on All detergent!
(Thanks Coupon Centsation!)
*This post may contain affiliate links. Please refer to my disclosure policy for more information