This post contains affiliate links.  Please refer to my disclosure policy for more information.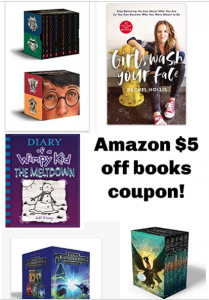 If something to read is part of your Christmas tradition, make sure you take advantage of this Amazon $5 off $20 books coupon!! It ends TONIGHT!
Use code NOVBOOK18 at check-out to save $5 off your $20 purchase through midnight tonight (11/25/18)
Books MUST be sold and shipped by Amazon for the code to work
Your total must be over $20 to use the coupon code
Need more book ideas?  This post here has LOTS of book ideas for younger kids–> Amazon reading ideas for younger children
Here are some ideas for using this coupon:
If you haven't read 
Wonder
yet, it's a great book for the entire family!!  You can also grab the sequel, 
Auggie & Me
and 
The Meltdown
(the newest Diary of a Wimpy Kid book) for just $18.35 after the coupon code!
I've heard so many things about Rachel Hollis' new book – 
Girl, Wash Your Face
and you can get that plus
The Magnolia Story
by Chip and Joanna Gaines for just $21.91.
Boxed sets are a great way to stock up on favorites and save even more! If you've got a kid who loved the Harry Potter books, here are a few other series worth checking out:
This 
Percy Jackson and the Olympian boxed set
is only $15 with the coupon!  If you're reading the boxed set, make sure you grab the movies, too!  My kids love being able to watch the movie after they've read the books to compare–> 
Percy Jackson Blu Ray Combo pack
The 
Michael Vey boxed set
is $25.11 after coupon.
Do your kids watch 
A Series of Unfortunate Events 
on Netflix?  The show was inspired by the books by Lemony Snicket!  Now you can get the 
Series of Unfortunate Events boxed set
for $19.53 after coupon.
The
Five Kingdom series
is another popular series for tweens. Get the boxed set for $45.97 after coupon.
The 
Underland Chronicles
was written by Suzanne Collins (author of 
The Hunger Games series
).  Get the entire boxed set for just $19.82 after coupon.
39 Clues
is a popular series written by Rick Riordan, author of the
Percy Jackson series
. You can get all 11 books for just $41.99 with the $5 off code!
The Ranger's Apprentice boxed set
is just $15.49 with the code!
Get the 
Fablehaven series
for $20.49 with the code!
AND…if your kids haven't read the
Harry Potter series
yet, it's a great time to grab it!! There's a $13 off coupon on the product page PLUS the $5 off coupon. Get the set for $40.50! WHOA!
This is a throwback to my childhood!  Get 
The Baby-Sitters Club Retro Tin and book set
for just $21.13 after the clippable coupon on the page and the $5 off code. This brings back SO many memories for me. My friends and I actually started our own Babysitter's Club!
Need more ideas? Here's what my kids are reading right now!
Jennifer Nielsen did an author visit at my son's junior high. He read
Resistance
first and is now reading
A Night Divided
and has loved them both. He has dyslexia and is a "reluctant reader" so I love seeing him so excited about reading! He's 11. You can get both of these books for $15.08 with the discount codes.
My son is really interested in World War II books.  Here are a few more on his list right now if you've got a kid with the same interests:
Projekt 1065: A novel of World War II
The Boys Who Challenged Hitler
My daughter is an animal lover. She loved the movie
A Dog's Purpose
and is now making her way through all of the Bruce Cameron books. You can get
A Dog's Purpose Boxed Set
plus
The Dogs of Christmas
, which is also by Bruce Cameron for $19.59!  Grab the 
A Dog's Purpose DVD
, too!  It's only $4!
What did you use your $5 off coupon for?
See more Amazon deals here–> Amazon Deals